RAEF HAMAED
Pharmacist, Entrepreneur, All Care Pharmacy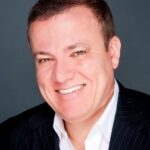 RAEF HAMAED
This was my belief before I started my learning journey with Claudette;
"Unless you were born in the USA or came here at a very early age, you are never going to be able to speak like a native born American".
I have been living in Canada and the United States for 28 years. Although I had learned to speak proper English in a relatively short period of time, l had an endless challenge of not being able to sound like a native born American. I tried several programs; CDs and books in the old days, and online courses in modern days. I was able to reduce my accent and became more comprehensible, however, I reached a dead end and thought that more improvement was not possible without getting help from a coach.
I came across Claudette's name through an intense online search for a coach. I can say that I couldn't have been more pleased with my choice. By listening to me speaking, Claudette was immediately able to identify the sounds that I had problems with. Working with one sound at at time, I started to believe that being able to speak like a native American is possible.
From my home in Scottsdale, Arizona, we did our weekly lessons via Skype. I looked forward to each and every lesson and enjoyed the challenge and cherished the outcome.
I highly recommend Claudette to anyone who is motivated and eager to improve his or her accent. She is an amazing teacher and a wonderful person to work with.