LOURDES CARMONA GUTIÉRREZ
Transformational Trainer and Author, Airline Pilot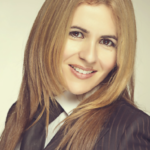 LOURDES CARMONA GUTIÉRREZ
I feel so honored to be a student of Claudette Roche. I fly jets for an airline in Spain and my life purpose led me to open a new professional gate, becoming an International Speaker and a Transformational Trainer.
It took me a while asking for referrals, then I found Claudette. To my surprise, she exceeded my expectations with excellence, drive, motivation, vibrancy and uniqueness.
She has a natural ability to listen to your soul. Claudette is so passionate about your progress in every single class, making your training her priority.
Be ready to be on cloud 9.