AMY UDANI
Executive Director, MeCure Inc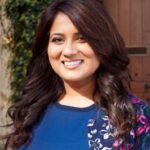 AMY UDANI
Working with Claudette Roche has really been transformational, to say the least. Her sessions go waaay beyond accent coaching. She helped me find my unique style while making small adjustments here and there. I loved our sessions together, it didn't feel like work and I practiced a lot cause it was fun.
Very recently I found out what a profound impact Claudette had actually had on me. I was out with a friend and she's not from the States, either. I helped her pronounce the TH sound without sounding like a D sound. After numerous attempts she couldn't tell the difference and I realized Claudette didn't just help me make modifications with my sounds but made me aware of the differences. Now I actually listen to the way words are pronounced, subtle sounds that were always around me but I wasn't attuned to listening. This gives me immense confidence because now I make an informed choice on the way I pronounce certain words and I can easily offer an alternative pronunciation if I get the "huh" look! And that's exactly what I envisioned for myself. I wanted to be understood by improving myself rather than changing.
Thank you so much Claudette, I miss our Skype calls.
I'd highly recommend Claudette to anyone who is looking to cross the accent bridge once and for all. Claudette will walk you there!